Hello all my lovelies (and all the new peoples that I hope are visiting today)! I hope everyone is having a fantastic Friday. I know I, myself, am looking forward to the weekend and hopefully a lot of writing and reading. And catching up on sleep. That sounds good too.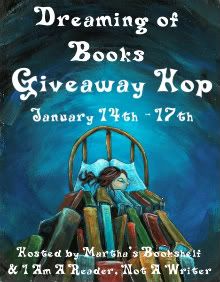 But you guys are probably here for another reason. So I guess it's time for my first contest! Yay! *does a little dance* I'm a little excited. I've only been around for 14 days now, so a contest is just what I need to perk myself up. And give away a little goodness for you all as well. This is part of the fantastic blog hop hosted by Martha's Bookshelf and I Am A Reader, Not A Writer! Thanks, ladies! Let's get started.
PLEASE READ ALL OF THE RULES SO YOU DON'T MISS ANYTHING!!!
Okay here's the deal: The blog hop will only be open for a limited time, Jan. 14-17. All you have to do is leave a comment. That's all.
What's at stake, you ask? How about ANY BOOK YOU WANT! There is a $15 limit, but it will be delivered through the
Book Depository
, meaning it's open internationally as long as they deliver to your country!
So for entering:
Contest only open to followers of the blog.
Leave a comment telling me how your following (like your GFC handle) and tell me the best book you read in 2010.
Include how best to contact you.
Extra entry if you follow me on Twitter (@brennabraaten - link on the right of the screen). Make sure to leave your twitter handle please.
Winner will be chosen by
Random.org
on Jan. so I wish you all good luck! Below is the list for the next blog. Happy hopping!